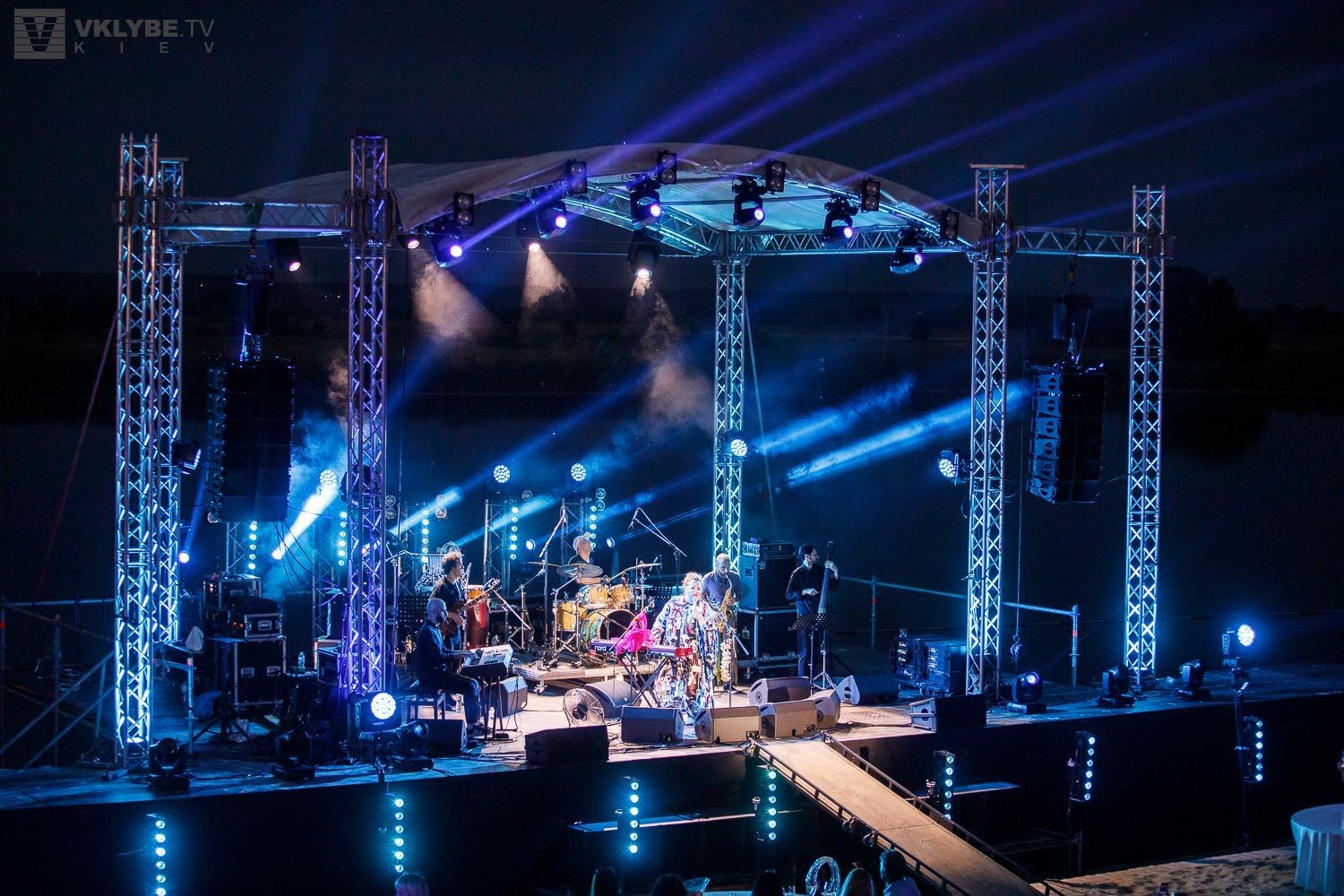 Staging and truss
Order calculation
Scroll
Renting a stage is one of the most important stages of arrangement for any event. The stage and stage structures are the frames, the basis of a technical solution for any event. You're managing an event by an artist or speaker? Take care of a reliable technical partner with many years of experience to rent a stage for it.
Rental of the podium, mobile stage, street stage — for 15 years in the stage structures rental market Rider Rent was involved in some projects. Our experts will be able to decide which design is best to complete your task.
It's important to remember the stage structure must be reliable firstly, choosing a contractor from whom you plan to rent a stage. The safety of guests and participants of the event always comes first. And it doesn't matter whatever your event is a small private or business event, or a street festival with a large-scale technical development — safety should always be at the forefront! Wind and snow loads, various vibrations, and other loads are the parameters that must be taken into account for calculating and selecting structures.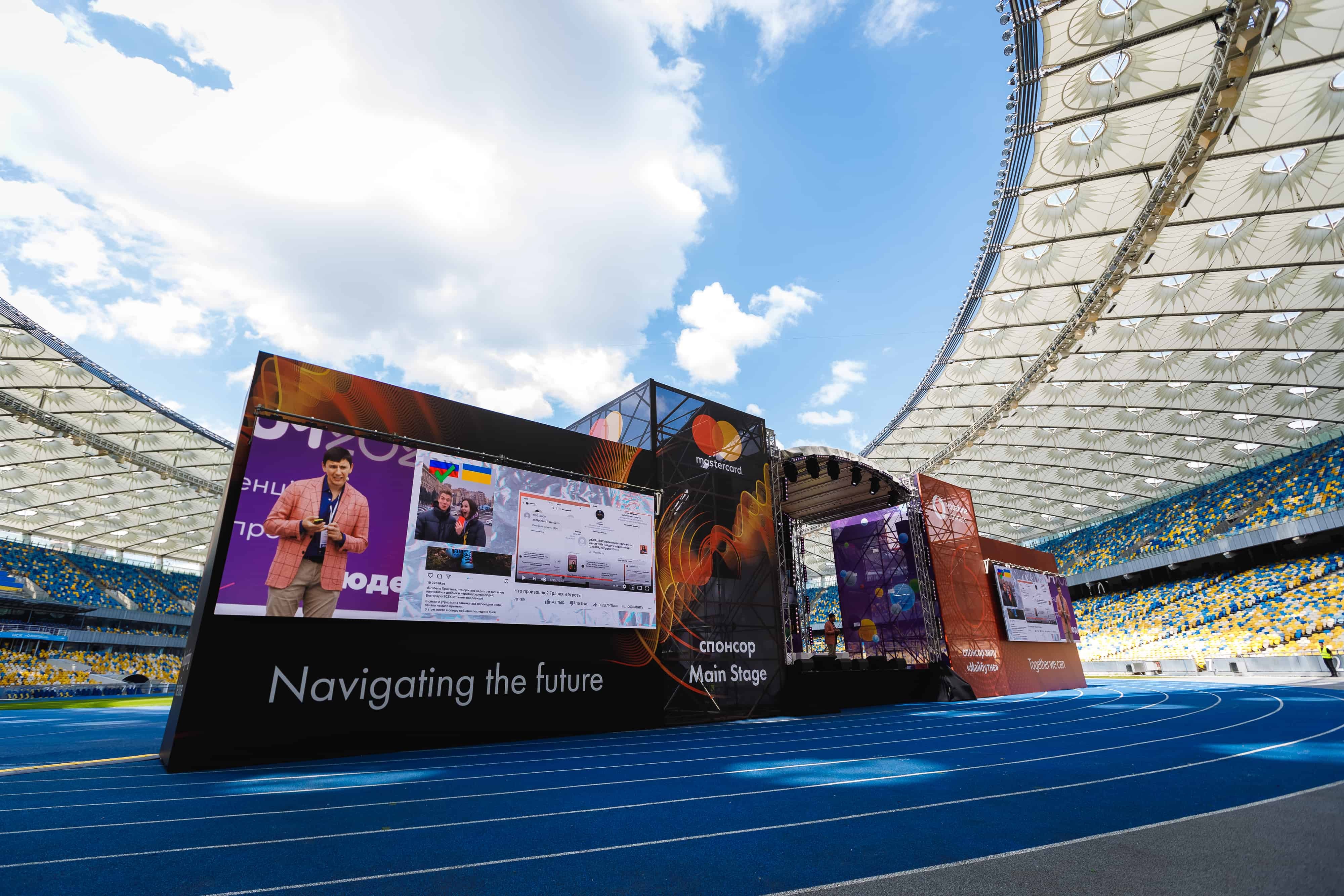 Rider Rent. Our company's advantages as your event's technical partner
Experience. We've designed and worked with different stage structures. They differed in size, shape, type, and were used for various events including music gigs, business events, presentations, performances, fashion shows, frequent events, etc. We have 15 years of experience in building outdoor venues and halls in Kyiv, Odesa, Kharkiv, Dnipro, Zaporizhzhia, Mariupol, and other cities of Ukraine.
Own storehouse. Rider Rent has potentials for both the team and the equipment we work with. Layer structures, arches, trusses - our iron can cover the event of any scale. A team of professionals, which can perform installation & dismantling taking into account all safety requirements and clearly by schedule, works with this equipment.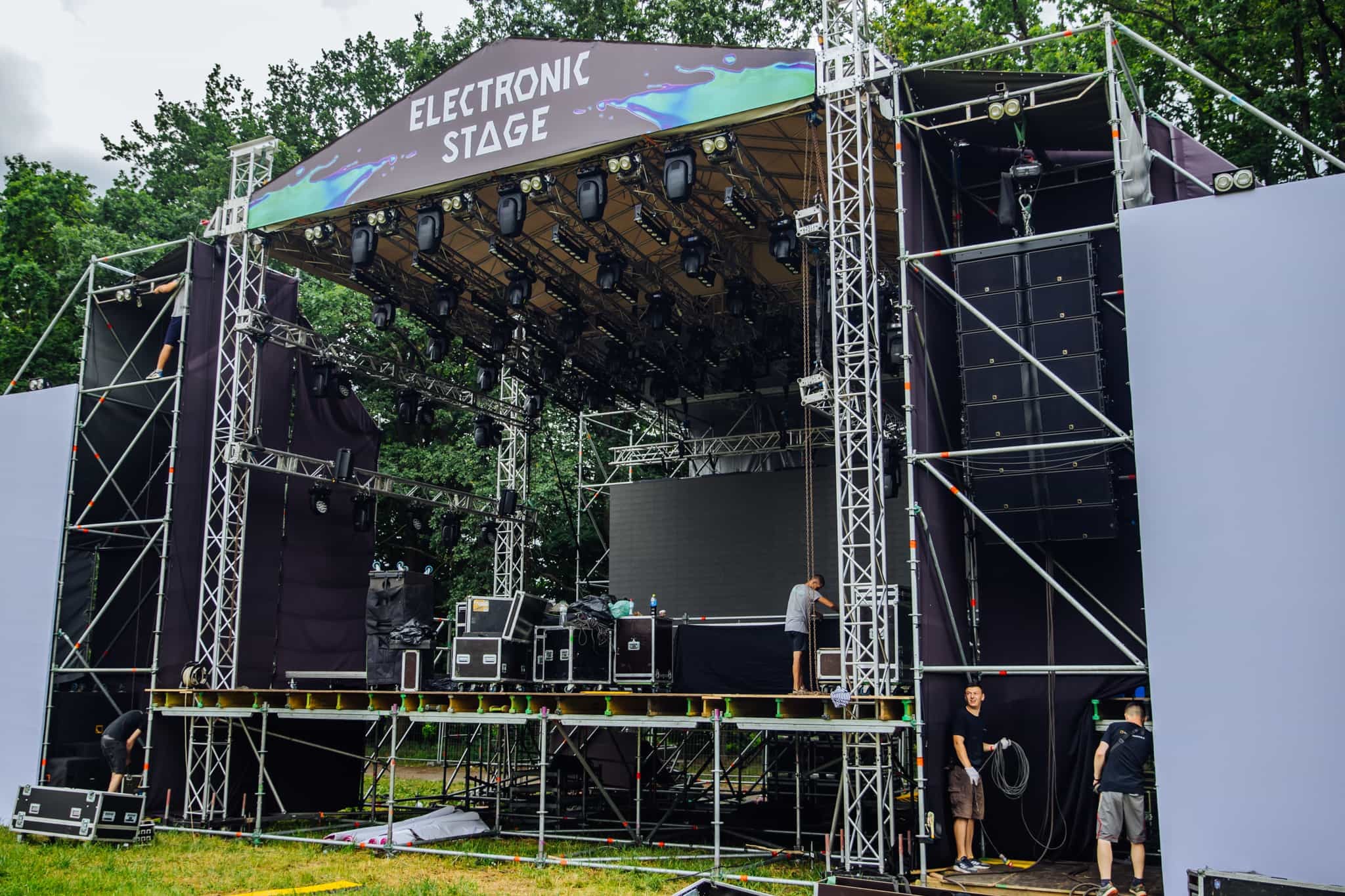 Stage construction rental service. What do we offer?
Layer and turnkey stage construction.
The specialists of the Rider Rent team will select and create the stage structure necessary for your event. You provide your wishes and vision, we form Terms of reference (TOR) together, and then our team implements it. Stages of implementation.
TOR creation;
preparation of technical layouts;
preparation and coordination of visualization;
approval of visualization by the customer;
building of the structures.
Our professionals work with equipment from the world's best manufacturers.
Layher consists of various elements, easily transported, quickly installed and various structures grow out of it — stages of different sizes, stage complexes, portal towers, constructs, stands, podium decking. Structures of this type are the most reliable and can withstand heavyweight and load. Therefore, stage constructions of Layher company are most common for constructs of various forms and for completing various tasks.
Truss structures, roofs, and superlift for stage construction. Truss structures or trusses — is a type of structure also used for the construction of scenes and constructs. The peculiarity and key advantage of scenes from truss structures is visual beauty, lightness, transparency, and airiness. Scenes of this type can have both shed (double-pitched) and gable roofs, which makes it possible to select a design fitting the best for your event conception.
Trusses can be used also as constructs for installing decor, lighting devices, screens, etc. Truss structures are also often used to build stands, sponsorship and brand zones, bars, etc.
Renting street scenes should take into account possible changes in weather conditions. Such structures need a roof for protecting both the equipment and the speakers. Rider Rent company offers scenes with both shed (single or double-pitched) and gable (arched) roofs.
Stand construction using Layher
The show needs an audience. Sports competitions need fans. We can build stands at various venues, both closed and open.
Rider Rent team uses the Layher Event system in its work. Using it we build stands of various configurations and layouts, on various reliefs. They are convenient to install, their material is durable. Depending on the event, the stands can be equipped with benches, chairs, and seats, or may not have them at all (for capacity increasing).
Podiums and particables
Rider Rent provides its clients with such a service as renting a stage podium. It's the most simple stage design. It looks like a platform raised (to the needed height) above the floor. At the same time, the podium allows viewers to see the presented product or object from a variety of distances. There are a lot of advantages of the demountable stage:
simplicity — metal structures and surface panels;
ease of transportation — structural elements can be stored at a storehouse disassembled, take up little space, and weigh also, which is an advantage for transporting;
easy installation and disassembly;
high strength and stability;
safety;
huge variability of stage podiums.
If a broadcast or video shooting is planned for your event, then take care of the film crew work convenience. Here you can rent a particable — a high dais with a platform which a camera or if it's necessary, lighting equipment is installed on.
How to choose the stage for the event properly?
Before making a final decision about the renting stage, it's worth considering several parameters again:
Event scale. The size of the stage complex depends on how many people will be on the stage, what is the technical rider of the performing artists, what the scenery. The number of technical zones and the stair locations depends on it also.
Event scenario features. The stage complex technical parameters also depend on whether, for example, aerialists will perform, what are the theatrical performance features. Some numbers require special technological solutions.
Location features. The type of structure and its installation also depends on where the event will take place (outdoor or indoor). This also indicates whether you need to rent a stage with a roof.
The need for light, sound equipment, and decorations hangers. Will there be a screen on the stage - is its presence provided by the artist rider or the event scenario. Scenes for TV and online projects have their characteristics. It's necessary to take into account all the features of the shooting for its design. Such projects also have special requirements for light, screens, cameras, and playback location.
Stage size standards
Correct calculations provide not only a fast and trouble-free installation process. They are the basis for creating a safe stage structure. There are different size standards:
The stage is 6x4 m and then its multiples of 2 meters - 6x8 m, 10x8 m, 10x12 m, 12x14 m, 14x16 m, 16x20 m.
Podium sheet standard size is 1x2 m
What brands does Rider Rent work with?
We cooperate with global brands known as manufacturers of high-quality and reliable products. The iron of the Layer, Pro Light, Alustage trademarks complies with all international standards.
Rider Rent's professional team is working to create the best stage design for your event. Specialists such as a design engineer, technical director (or production manager), installers to work during installation and disassembly, as well as stagemen to work directly at the event are involved.
Rider Rent's portfolio includes technical support for large-scale festivals such as Atlas Weekend, Live, Zaxidfest, M1 Music Awards TV projects, Вечер Премьер с Катей Осадчей. Such Ukrainian artists as Monatik, The Hardkiss ONUKA, MOZGI, BB, TNMK, Dakha Brakha, Dakh Daughters, Tina Karol, Jamala, Ivan Dorn, Alyona Alyona, Sergey Babkin, Go-A, Вагоновожатые, Ruslana, KOZAK SYSTEM, Pianoбой, Бумбокс and many others performed on our stages
We also completed the rider of such foreign artists as JAH KHALIB, Guano Apes, Monika Kruse, Markus Schulz, Sikdope, Giorgia Angiuli, Monolink, P.O.D, SBHR, Nino Katamadze, Hosh, Jan Blomqvist, Sander van Doorn, POWERWOLF. Additionally, the company's portfolio includes many projects such as technical support for forums, corporate and mass events for city holidays, conferences, business events, and private parties.